10 Accessories Every Electric Scooter Rider Needs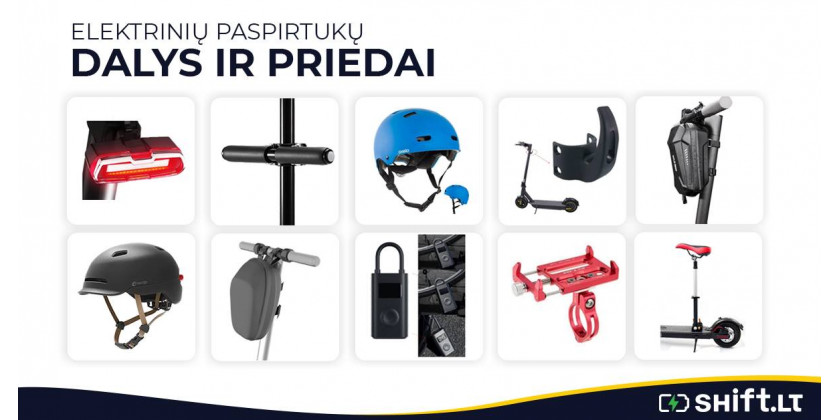 10 Accessories Every Electric Scooter Rider Needs
1. Helmet
A helmet is the an essential piece of safety equipment that you can own — always wear one when riding a scooter.
2. Reflective vest
A safety vest is an inexpensive piece of high-visibility clothing. They are brightly colored, have reflective patches and are worn over the top of your clothes.
Though these vests aren't the most fashionable, they will make you more visible to cars, and we recommend them if you are riding on busier roads or after sunset.
Eye protection is essential when riding a fast vehicle with no windshield. Bugs and debris can easily injure your eyes or momentarily blind you — leading to a dangerous situation.
Sunglasses work well as physical protection and also help you see better when the sun is at its brightest. For riding at night, clear or photochromic glasses that become more transparent are also useful.
4. Lock
Purchasing a lock is vital in keeping your scooter safe if you park it in a public place for any length of time.
There is a wide range of locks at various prices, include chain locks, cable locks, and U-locks. Some locks are more secure than others. Cable locks, for example, can be easily cut and U-locks are the most secure.
5. Light
A proper headlight is essential when it comes to seeing and being seen at night. Most electric scooters have dim or low-mounted lights, which do not illuminate the road well.
A bright attachable headlight can make a huge difference when riding at night — not only does the light help you see the road better, but it also makes you visible to other vehicles on the road.
6. Phone holder
Phone holders are very useful when riding. Whether you need to follow GPS directions or check a notification, you can safely do so without having to let go of the scooter handlebars and risk a nasty fall.
Phone holders install onto the scooter handlebar, and firmly grip your phone to keep it in place. Not only do you stay safe from any wipe-outs, but your phone also does as well.
7. Bag
Another one of the favorite accessory for electric scooter is a scooter bag. As we always have some stuff to carry, the small backpack/bag on the scooter always helps. Its charger, scooter lock, phone or small water bottle it's always great to have a bag which can carry everything.
A tire valve extender is a short-length tube that extends the reach of your pump. Many electric scooters have valves that are too short for most pumps, making them inaccessible. If your scooter doesn't come with an extender and has recessed valves — you'll need one.
If you have solid (airless) tires, then you don't need to worry about this accessory.
9. Pump
It's always recommended to check and maintain correct air pressure in the tyres. The most popular scooters as Xiaomi M365, PRO ant 1S, and other Xiaomi model's biggest problem is flat tires, because of not enough pressure, its recommended to maintain 4-5Bar and your tyres to get great rage and avoid pictures. So, its really great then you can check yours tire pressure every week with your own pump. There are regular and electric ones as the Xiaomi pump which is quite compact and really great for scooter tyres.
Even it's forbidden and not recommended to carry a child with a scooter, it's a really popular accessory as all children's likes to drive together with their parents, as lots of people use it as a main transport in the city.
Comments
Log in or register to post comments