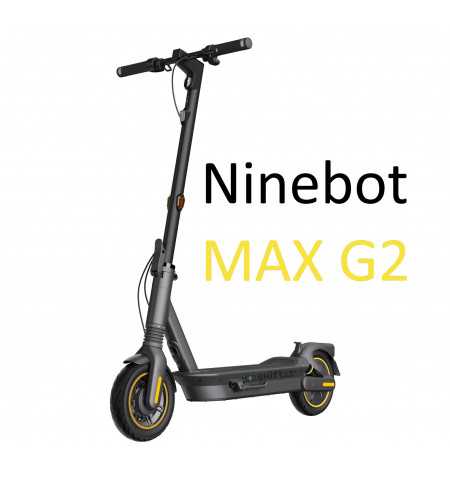 Scooter will be shipped out to you on 2023-08-01
Top speed of up to 25km/h for thrilling journeys.
Nominal power of 450W and max power of 900W, ensuring a powerful and dynamic ride.
Conquer inclines with a climbing slope of 22%.
Ride up to an impressive 70 km on a single charge, thanks to the high-capacity 551 Wh / 15300 mAh battery.
Enjoy a smooth and comfortable ride with the front hydraulic dumper suspension and rear double spring suspension.
Be amazed by the first-ever introduction of Automobile-class Traction Control System (TCS) in the KickScooter industry, providing superior control and stability.
Never lose your Ninebot with the Find My Ninebot feature, utilizing the secure Apple "Find My" network to locate your scooter on a map.
Unlock the full potential of urban exploration with the Ninebot KickScooter MAX G2. Reach exhilarating speeds, conquer challenging terrains, and ride with confidence knowing you have advanced features and the ability to locate your scooter effortlessly. Get ready for the ultimate ride of your life!
999€ 899€
742.98€ VAT excluded